Burnsville, MN, September 7, 2017—Atrix International, Inc., a premier manufacturing company, introduces a new high efficiency dust sampling filter, the Atrix ATISF-U15.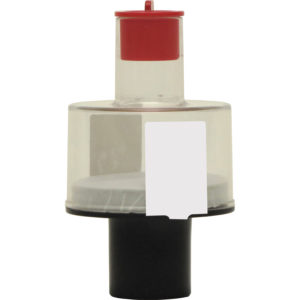 The ATISF-U15 is an economical and highly efficient single use disposable dust sampling filter manufactured with U15 PTFE (99.9995% Efficiency) Filtration Media, and has been tested and verified to exceed HEPA (99.97% efficiency at .3 Micron) Efficiency.
The ATISF-U15 features two strips of tape for the users to mark, date and label sampling contents prior to sending to the lab for content analysis as well as a plug to seal in the sample material for safe transport and storage.  In addition, the ATISF-U15 is only 5" long and 3" in diameter and is manufactured with a clear ABS housing for visual analysis of the sampling contents.
The ATISF-U15 single use disposable dust sampling filter has been designed and engineered to be able to be used with most vacuum cleaners as it has a hose end receptacle that is 1.24" I.D. and 1.50" O.D.  The utensil end measures 1.07" I.D. and 1.21" O.D. and is designed and engineered to accept Atrix Omega Series utensils, such as the 730030 crevice tool or AVPA011 utility tool, among others.
This new economical, single use disposable and highly efficient dust sampling filter has up to a 6 oz. capacity (dependent on particle size) and will be an excellent aid to scientists, lab technicians, pest control technicians, entomologists, industrial hygienists, occupational hygienists for hazardous dust (such as silica) sampling collection and even homeowners who need to sample lead dust or mold for analysis by trained professionals.  The uses for the Atrix ATISF-U15 are varied and unlimited.