Burnsville, MN, August 1, 2017—Atrix International, Inc., a premier manufacturing company, introduces a new vacuum cleaner, the Revo Red Bagless HEPA Canister Vacuum.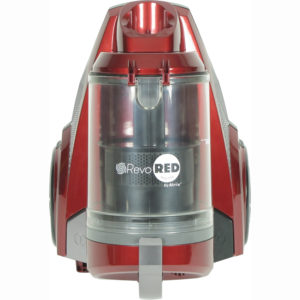 The addition of this vacuum adds further value to Atrix's home and office vacuum line. The vacuum's bagless technology feature enables it to complement an already deep canister vacuum line and adds a brand new dimension.
The Revo Red Bagless HEPA Canister Vacuum offers a four stage filtration system which includes a high efficiency HEPA filter enabling it to capture and contain fine particles such as dust and pet dander. NO MORE BAGS to REPLACE. All four filters are washable and reusable. In addition, the large cavernous three quart dust bin empties with the push of a button. This 10 pound HEPA bagless canister vacuum is equipped with an auto retractable 20 foot power cord, detachable telescopic metal wand, and 1,400 watt variable speed motor, making the vacuum powerful, portable and compact. This easy pull vacuum also comes with a variety of floor tools and brushes.
With the variable speed motor, the Revo Red Bagless HEPA Canister Vacuum is a viable cleaning appliance for a variety of surface types. The variable speed motor feature allows the user to match the power to the task, allowing the vacuum to efficiently clean anything from hardwood floors to fine draperies and rugs. The air flow can also be adjusted on the handle of the vacuum providing an even more controlled cleaning experience.
Atrix International is a full-line manufacturer of fine particulate vacuum products, including HEPA and ULPA filters for the field service, electronics, remediation, abatement and pest management industries. Atrix vacuums and filters are available at Atrix.com and via a network of authorized distributors.