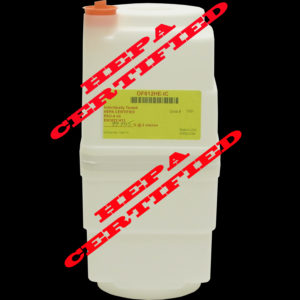 Burnsville, MN, October 11, 2017—Atrix International, Inc., a premier vacuum manufacturing company, introduces its first ever Individually Tested, HEPA CERTIFIED Omega Series Filter Cartridge.
The OF612HE-IC is INDIVIDUALLY tested "In Situ" or "INSIDE" our Omega Series Vacuum and CERTIFIED HEPA H13 with a minimum particle efficiency of 99.97% @ .3 micron.  Each OF612HE-IC comes with a Serialized HEPA Filter and Serialized Filtration Certificate to match, along with the efficiency rating of that individual filter on the label AND certificate.
The OF612HE-IC Filter Cartridge tests are performed by an independent 3rd party and are tested to the EN 1822 standard.  The test equipment used include the Atrix Omega Series Vacuum Cleaner, Air Techniques International TDA-2G Aerosol Photometer, Air Techniques International 4B Laskin Nozzle Generator and PAO-4 oil.
The OF612HE-IC Individually Tested, HEPA CERTIFIED Omega Series Filter Cartridge will retail at $69.95 and can be viewed at:
https://atrix.com/product/of612he-ic-omega-series-certified-to-en-1822-hepa-filter-cartridge/
Atrix International is a full-line manufacturer of fine particulate vacuum products, including HEPA and ULPA vacuum filters for the field service, electronics, remediation, abatement and pest management industries.  Atrix vacuums and filters are available at Atrix.com and via a network of authorized distributors.