Welcome to the 21st century: the generation of iPhones, Segways, and HEPA filtration systems. Okay okay, the last one might be a little bit of a stretch, but in today's time more and more quality vacuums are equipped with HEPA filters.
As HEPA filtration systems are gaining popularity, it is important for a consumer to know the benefits these filters provide. First off, HEPA stands for "High Efficiency Particulate Air" and it is a specific kind of air filter that meets the standards of efficiency set up by the United States Department of Energy.
In order for a filter to be a HEPA filter, it must remove 99.97% of all particles greater than .3 microns from the air that passes through. In simple terms, a HEPA filter can trap large amounts of small particles, where other vacuum cleaners simply recirculate these particles back into the air. HEPA filters have a wide variety of benefits, especially those for a person's health.
First off HEPA filters trap dust, allergens, and even potential toxins in the vacuum cleaner, eliminating particles that cause allergies and respiratory issues. HEPA filters also reduce a person's exposure to air-born particles, which come from rugs and floors, by removing dirt and the surrounding air from the floor.
By removing the dust and allergens, HEPA filters improve the indoor air quality that we breathe.
Atrix HEPA Vacuums
Those looking for an exceptional HEPA vacuum for commercial applications; fear not I haven't forgotten about you.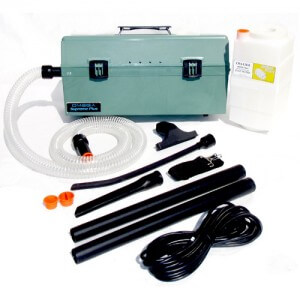 The Atrix Green Supreme vacuum allows a user to safely remove, contain, and dispose of hazardous and toxic particles. In industries such as paint removal it is vital that particles removed are safely contained.
These vacuums take extra precaution to ensure that the user is properly protected from the waste they are disposing. The Green Supreme is manufactured with a HEPA filter container rather than a bag to prevent exposure of the waste from a bag tear or replacement.
Whether you are trying to protect yourself from hazardous material or simply trying to improve the air quality in your home, upgrading to a HEPA filtration system is essential. Let me leave you with some original words of wisdom: safety first!